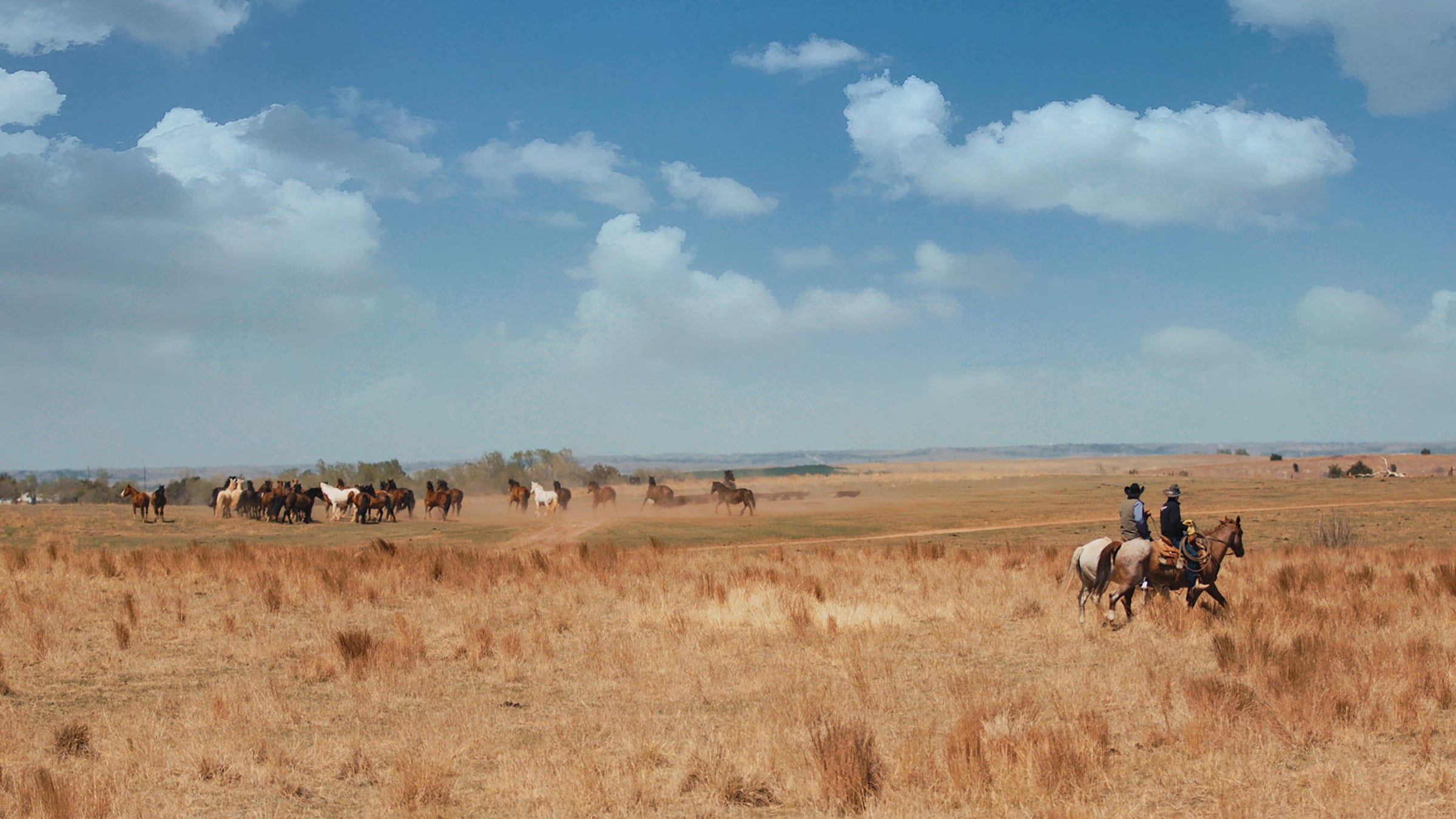 Owner
Gerald Nelson Jr.
Jerry Nelson started with humble beginnings. At age 18, Jerry's father loaned him and his brother $5,000 and told them to "make it work." Jerry now operates one of the most successful oilfield equipment businesses in the world, Maverick International, based in Beaumont, Texas. But when asked which business he is most proud of, with a chuckle and a grin, he will always say, Frontier Rodeo Company. 
Frontier Rodeo Company started in the early 1990s with a small plot of land and one livestock rig. In the 20 years since Frontier's start, it has become one of the most successful rodeo companies in the world and has been awarded PRCA Stock Contractor of the Year and PRCA Remuda Award—awarded to rodeo companies that demonstrate the highest quality, consistency and compassion for the business. 
Frontier Rodeo Company's breeding program has produced some of the top bucking livestock in the country winning not one, not two, but seven PRCA World Championships for Bucking Stock of the Year. The infamous Medicine Woman, 4x PRCA Saddle Bronc of the Year, along with her pasture mates, Full Baggage and Maple Leaf, have made Frontier Rodeo Company a household name in the rodeo industry. 
While Jerry has achieved much success in his many entrepreneurial endeavors, he is quick to tell you that his greatest accomplishment is his family. Jerry and his wife of 40 years, Beverly, have two children, Candace and Jerry III, and four grandchildren.  
Still just as industrious as yesteryear, he enjoys 12 to 14-hour workdays at Maverick International and credits his grandmother, his mother and his father as the most influential people in his life. He would most like to be remembered as someone who helped those in need—a man who strived for the impossible and a man of his word.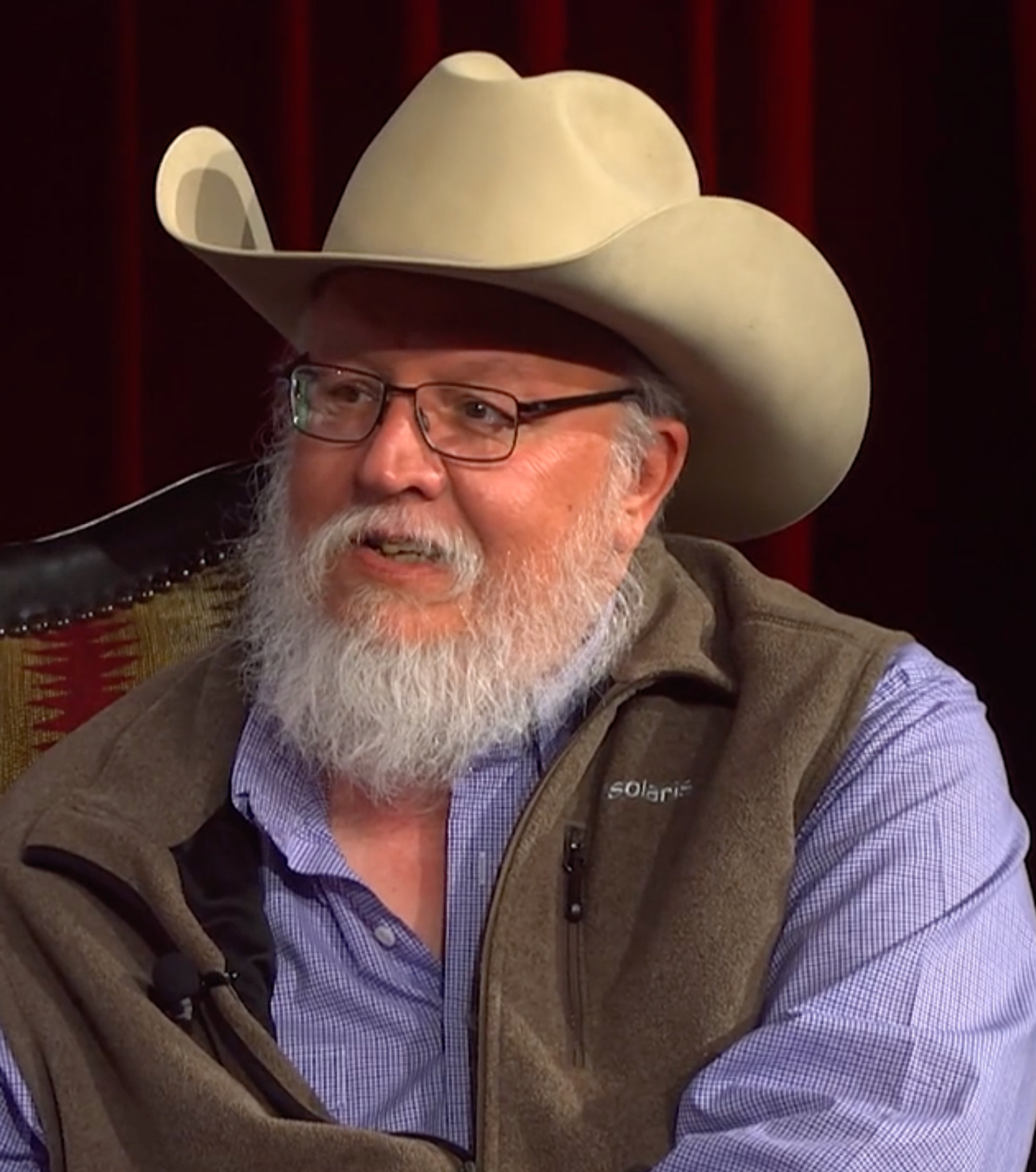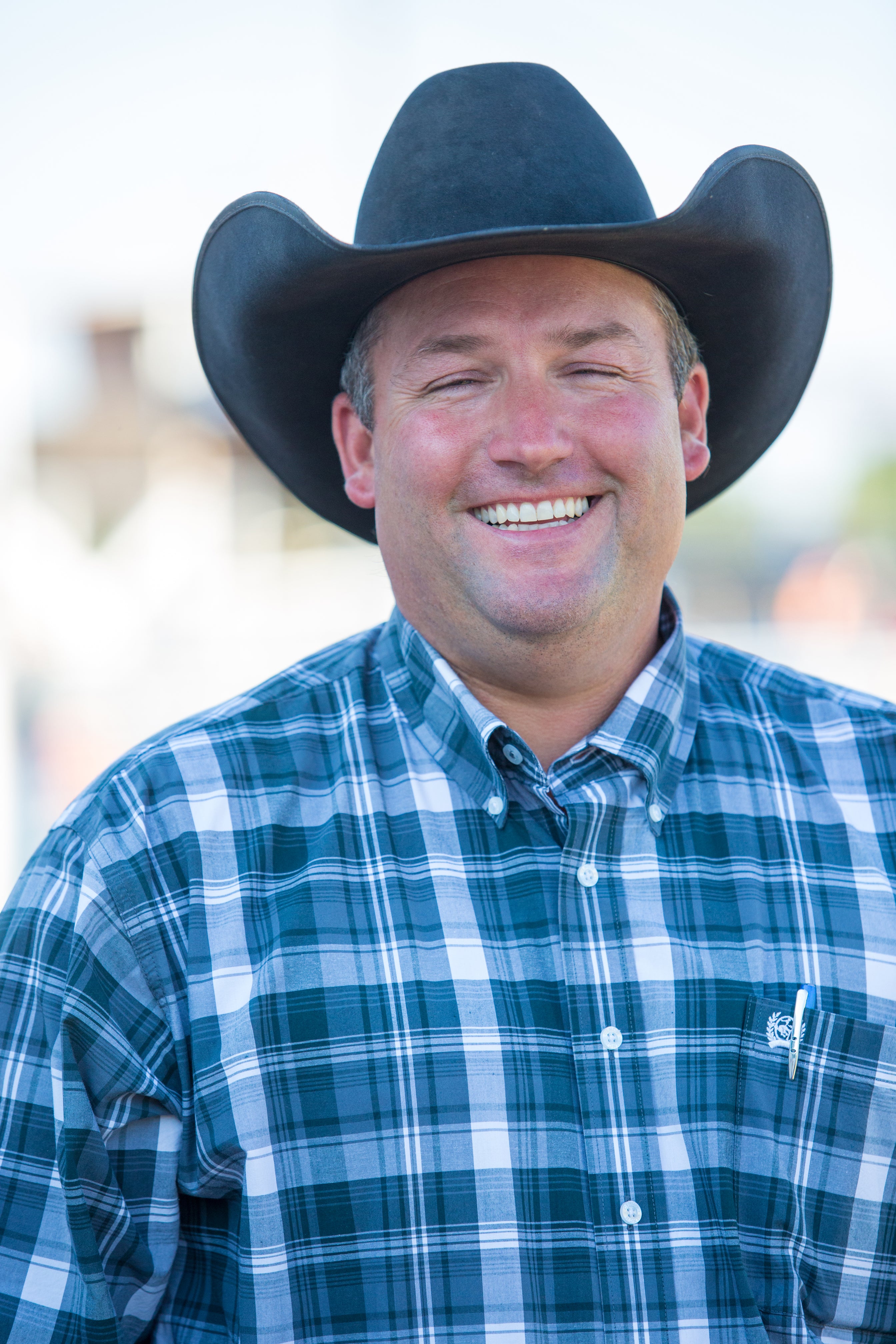 Rodeo Manager
Heath Stewart
Frontier Rodeo's slogan is "Breeding Ground of Champions" and Heath Stewart is the man behind the slogan. Heath Stewart and Jerry Nelson started their partnership in the early 1990s when he came to work as a ranch associate. Shortly after, Jerry and Heath began working on a breeding program to produce the best livestock in the world. 
Over the next 20 years, Heath worked to put together one of the best bucking horse and bull breeding programs in the country with livestock winning numerous awards in the PRCA and the PBR. Heath began this herd with 20 retired NFR bucking mares from the Harry Vold string. After many years of experimenting and adding in bloodlines from top stallions in the country, Heath developed a bloodline like no other—with many of these animals being named World Champion for more than one year.  
Heath was born in Lake Charles, Louisiana and soon moved with his family to Collinsville, Oklahoma where his mother and father worked. Heath has always been involved in the Rodeo industry with his father being an IPRA World Champion Bareback Rider and a managing staff member for the association. 
Heath handles all negotiations for event contracts. Contact him at hstewart302@gmail.com.
General Manager
Don Gay
Don Gay is an 8x Professional Rodeo Cowboys Association World Champion Bull Rider. Don grew up in Mesquite, Texas and started rodeoing at age 6. His father, Neal Gay, was a well-known rodeo competitor and rodeo producer. Don was inducted into the ProRodeo Hall of Fame in 1979, and his father was inducted in 1993, becoming the only father and son to receive that honor. Don retired from professional rodeo in 1989 and in 1997 received the PBR's Ring of Honor.
Since 2002, Don has been the general manager of Frontier Rodeo Company, providing livestock to professional rodeos and bull riding events across the United States. Don also does television commentating for pro rodeo and pro bull riding events throughout the country. From the 1980s to 2000s, he was a commentator for the Mesquite Championship Rodeo when the weekly event was televised. He commentated for Professional Bull Riders (PBR) big-league events on TNN from 1993-2001, Championship Bull Riding (CBR) big-league events on Great American Country from 2009-10, and PRCA Xtreme Bulls big-league events on ESPN from 2003 to 2010 and GAC from 2011 to 2013. From 2003 to 2017 and again since 2020, Don has provided commentary for the bull riding during the live telecasts of the National Finals Rodeo each December. He continues to be involved in CBR, providing live announcing at some events, including the CBR finals.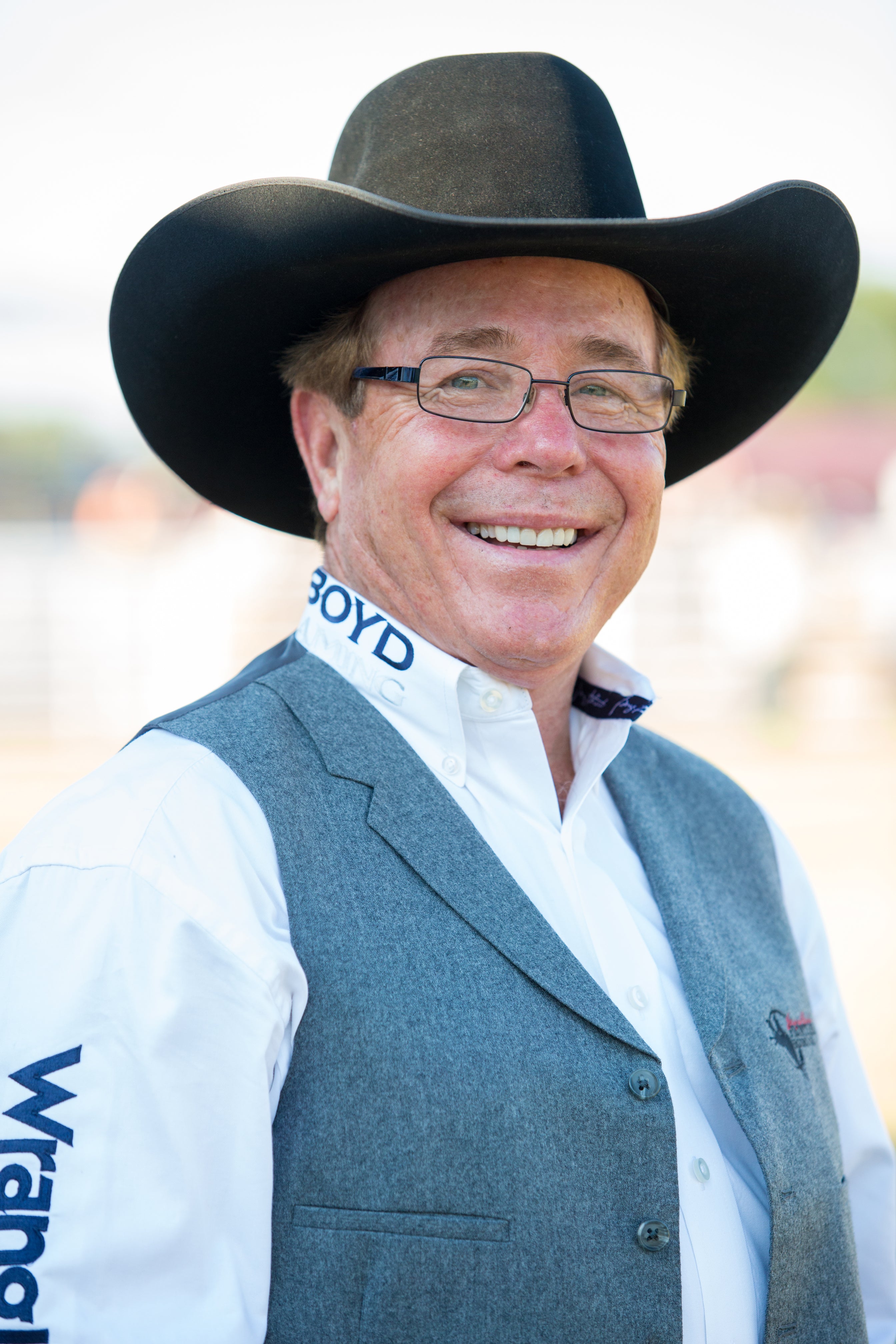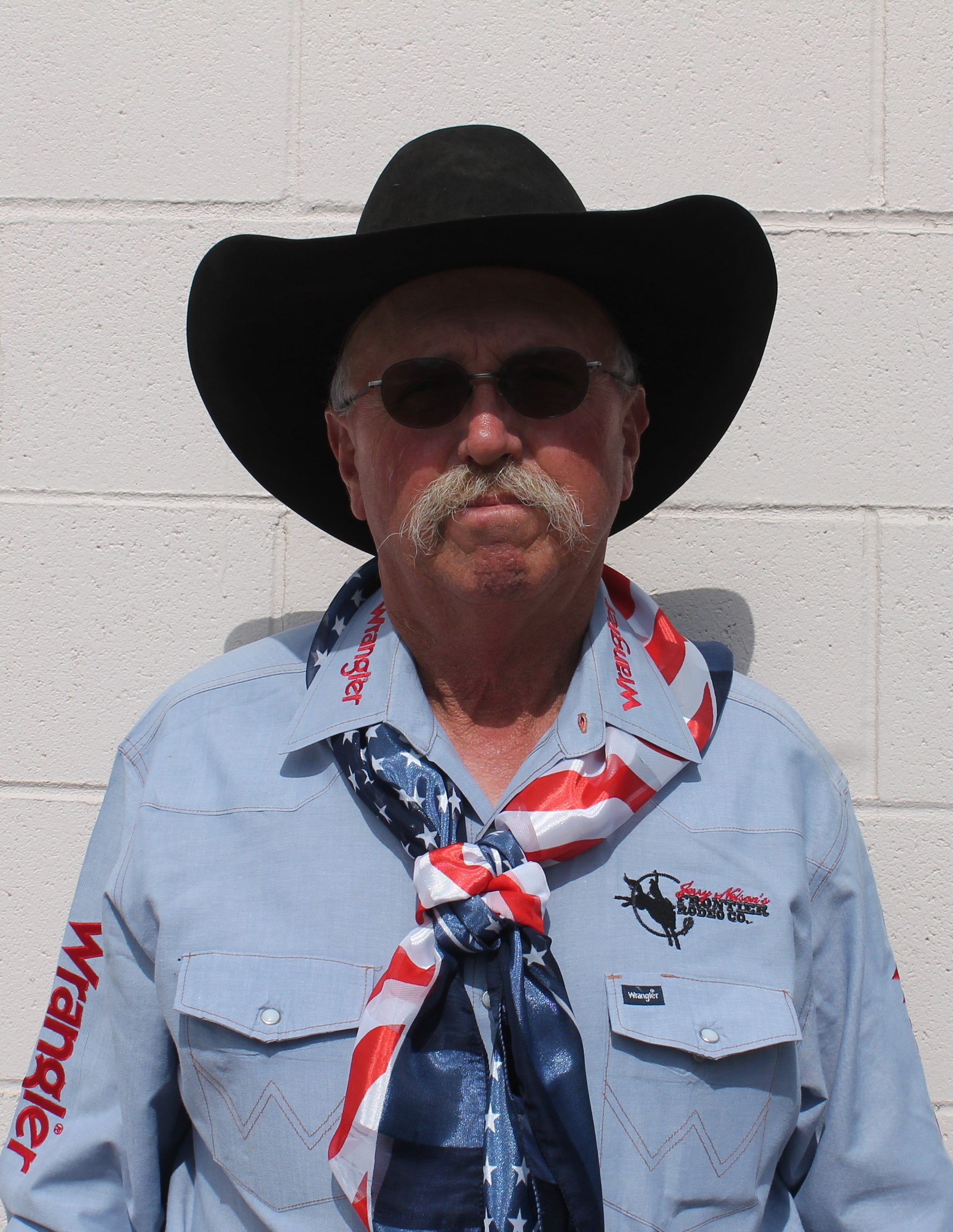 Pick-Up Man
Rex Bugbee
In Memory "One of the Best"...
November 8, 1954 ~ August 25, 2020
Rodeo Timer
Terri Gay
Terri Gay is the wife of Don Gay, 8x World Champion Bull Rider and General Manager of Frontier Rodeo. Terri considers daughter Talli her greatest reward in life. Terri has been a PRCA secretary/timer since 1977. She has been privileged to work for Neal Gay, Jim Shoulders, Cervi Brothers and currently Frontier Rodeo Company. Terri has timed the National Finals Rodeo three times, as well as The American in Arlington, Texas since its inception. Terri is also involved in assisting with publicity while at Frontier events.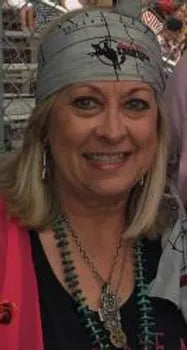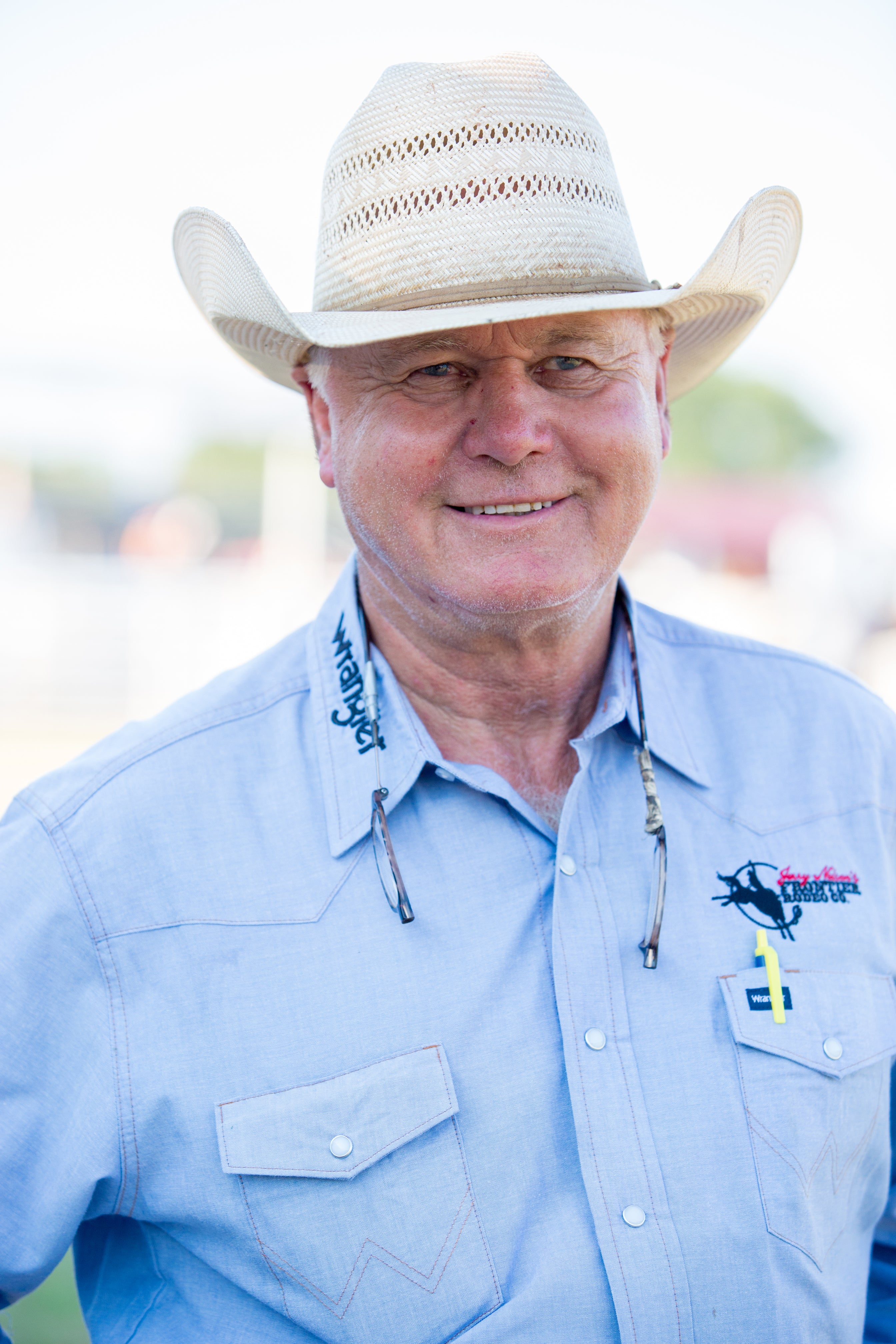 Livestock
John Patterson
John Patterson started working for Frontier Rodeo Company in 2008. John is from Mesquite, Texas and is no stranger to the rodeo industry. He started working for Neal Gay when he was 10 years old and he continued working for them for 50 years. He now makes his home in Freedom, Oklahoma where he is one of the main truck drivers for Frontier Rodeo Company. When they are not at a rodeo you can find him in the shop as the Frontier mechanic. John has two sons and is the proud grandfather of four granddaughters.
Livestock
Butch Stewart
Butch is the father of rodeo manager, Heath Stewart. After retiring—if you want to call it that—he and his wife, Brenda, moved to Freedom, Oklahoma to help take care of the day-to-day duties on the Frontier Ranch while the rest of the crew is out producing rodeos. Since starting in 2013, he enjoys looking after the four-legged athletes of Frontier Rodeo Company.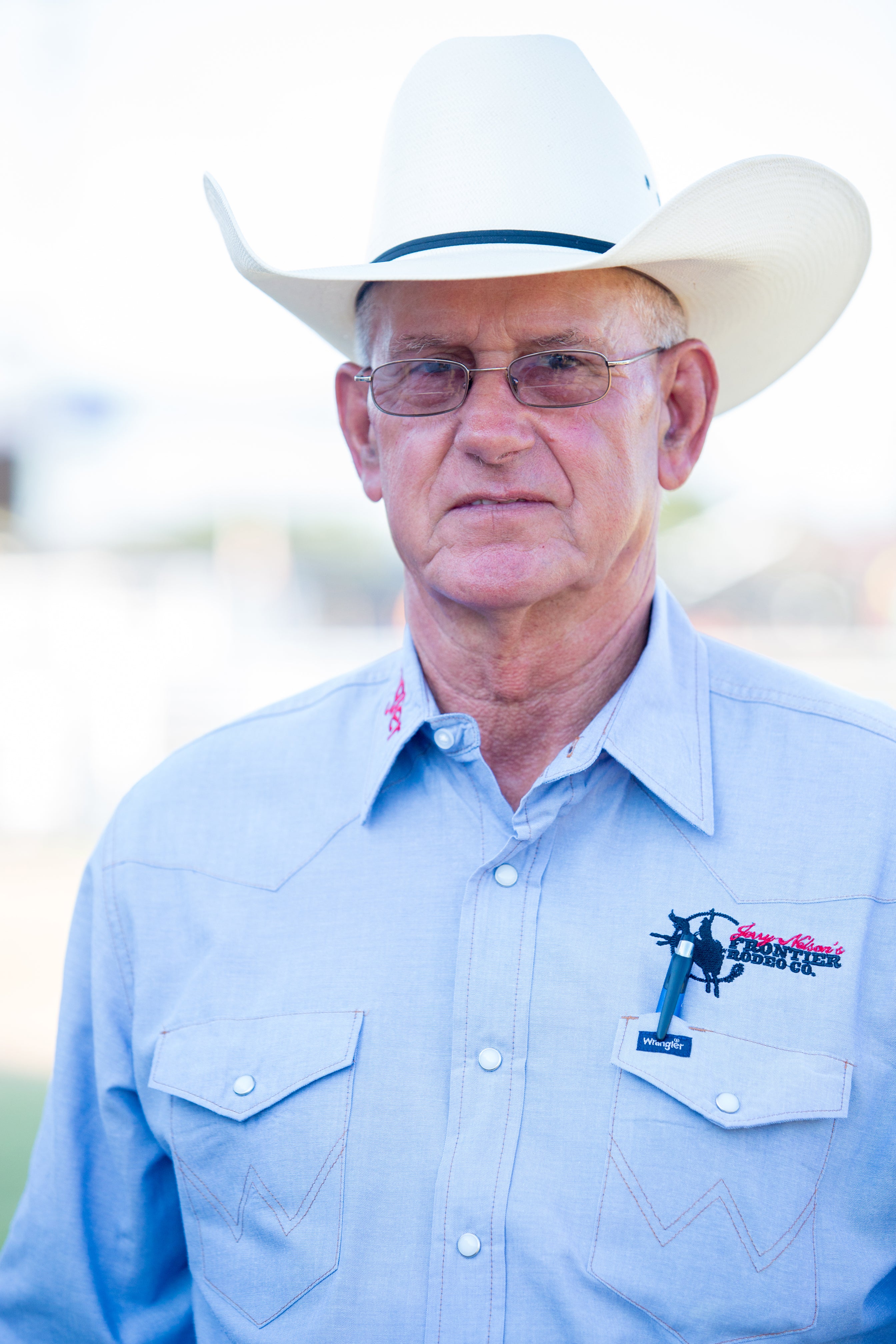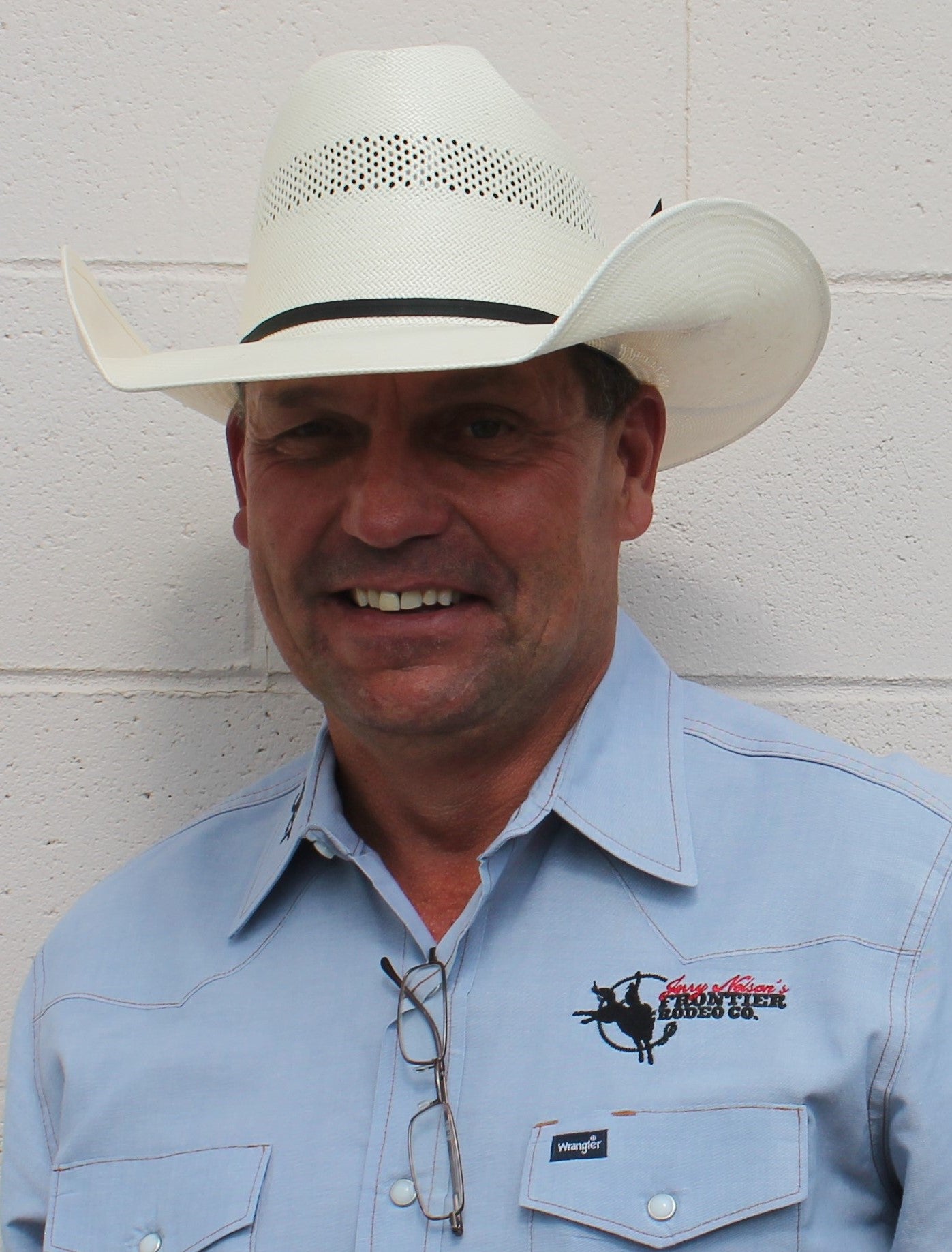 Livestock
Tom Neuens
Tom comes to Freedom from the beautiful state of Wyoming. He's been with Frontier Rodeo Company part-time since 2012. He drives a truck and acts as arena director for Frontier Rodeo Company. When not on the rodeo road or working on the ranch you can find him in his leather shop. Tom also serves as the Chute Boss at the NFR. He has one daughter, Sloane.
Livestock
Preston Kafka
Preston is from Wagner, South Dakota. In March of 2018 he made the move from Goodwell, Oklahoma to Freedom. He is a graduate of Panhandle State University, where he was a member of the rodeo team. Preston and wife, Bailey, live on what we call the backside of the ranch, where he oversees approximately 500 head of cattle.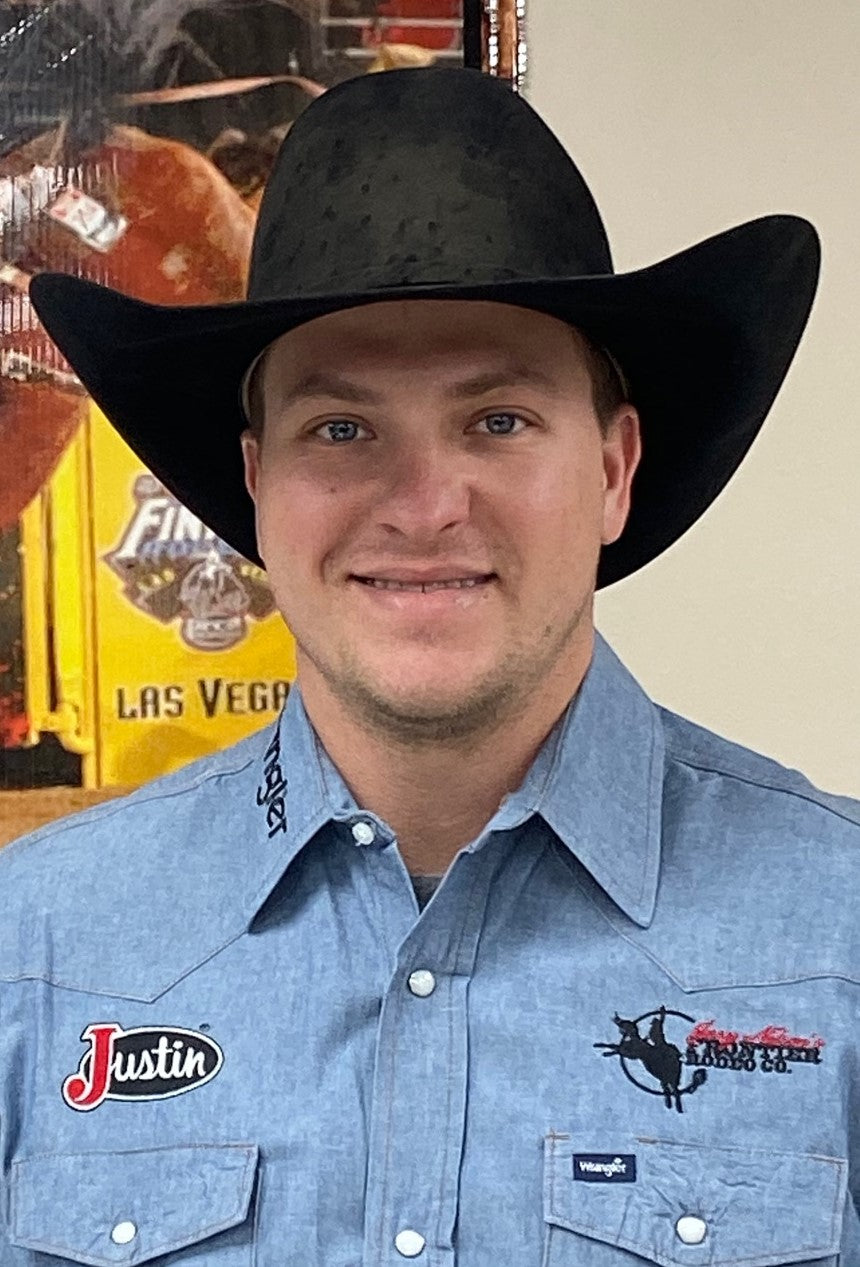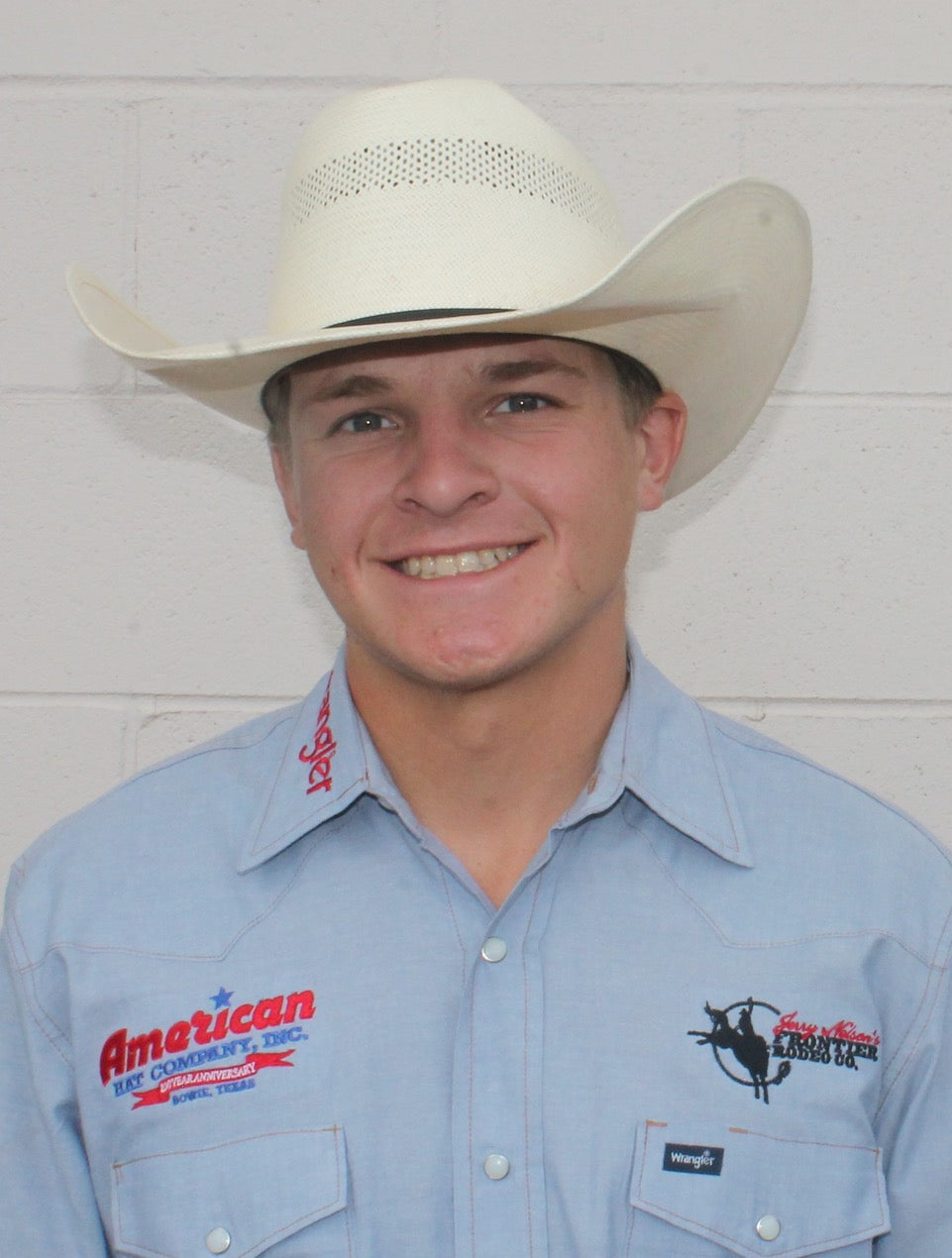 Livestock
Lance Bolar
Lance is from Freedom, OK and began working for Frontier Rodeo Company in 2015.  Once he graduated from Freedom High School he became a full-time employee.  When not at a Frontier rodeo, Lance helps with day to day duties on the ranch.  Bolar discovered his love for bullfighting while working here and continues to hone his skills as a bullfighter.